I joined Cathedral City Toastmasters out of sheer necessity.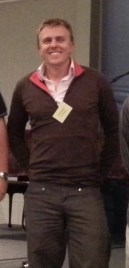 I had a new job that demanded leadership and presentation skills and I needed help – fast.  I wasn't enthusiastic about public speaking at all, and I would crash my way through presentations, with a bundle of nerves and without any proper understanding of how it should be done.  I would actively avoid situations where public speaking was required – this was limiting my career and I would discover later how much it was limiting other areas of my life too.
When I spotted an advertisement for Cathedral City Toastmasters in my local paper I knew I had to go along.  The night I first attended was a 'demonstration' evening – there were several guests that night who just like me, had also come along to see what it was about.
I was impressed!   These speakers were really good – they were animated and engaging when they spoke.  They spoke with purpose and clarity and best of all, they seemed relaxed and actually having a good time up there!  It wasn't until later on that I found out that some of New Zealand's best public speakers hung-out in this club!  I figured if I could be half as good as the people I observed that night, then I'd be successful – so I joined up and got straight to work on my first Toastmaster manual.
That was two years ago now.  These days I actually enjoy public speaking and I relish any opportunity to give a speech or presentation!  What a turn-around!  I've done some great speeches in the last 24 months at Cathedral City and at work.  I've spoken at international events, product launch events, video marketing clips and even a couple of 1 hour lectures as well.  When I speak, I have a 'bag of tricks' up my sleeve which help me through – all of which I've learnt through Toastmasters – speech structure, sign-posting, body language, vocal variety, humour, triplicates and more, and I do all of this without notes, and usually without ever writing out the speech on paper!
So in terms of my original goals – this mission is well-and-truly accomplished, but I'm far from being finished yet.  These skills I'm learning are so transferable to so many different aspects of my life that I cannot stop – I guess you could say I'm hooked.  Public speaking is a skill, and just like any skill it requires practise, and Cathedral City Toastmasters is the place I go each week to practise & improve.  And what better place to practise a skill, than with a great bunch of people I would never have met had it been for this club, who are incredibly supportive, enjoy a laugh and all want to improve as well.
I can honestly say that becoming involved with Toastmasters beats any professional development courses I've ever been in before, easily being the best thing I could've ever done for both my career and personal life.
Tim S. CC, CL, VP Education