We had an extra special edition of Toastmasters tonight, with Dave and Ade running a fantastic theme night. The subject of the evening: travel! Dave and Ade even came dressed in full pilot and flight attendant uniforms, respectively. Their eye for detail was amazing!
Before the meeting officially started, members were ushered into the "boarding lounge" where they were issued with their boarding passes. As the meeting began, passengers were let in to the main meeting room one at a time and were asked to sit in their designated seat, with the seating being laid out the same as in a real airplane.
Captain Dave took the helm and explained the plan for the evening – instead of prepared speeches we would enjoy some rapid-fire table-topics and evaluations. Dave flew the plane to a number of exotic destinations, and each stop had it's own Powerpoint slide. At each destination, one of the club members was chosen to stand and talk about why they chose this place to visit. After their speech ended, the member sitting in the seat next to them took to the stage to deliver their evaluation. Everyone had to think on their feet – no chance to prepare notes for these evaluations! Destinations included London, Sydney and Dubai. Before the supper break, Dave presented the inflight movie, which was a recording of an excellent humourous speech contest entry.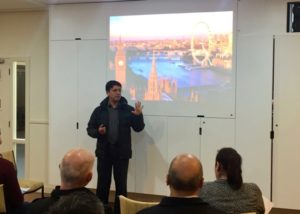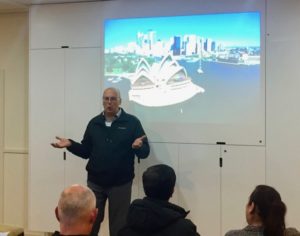 The travel theme continued with supper, where the captain and flight attendant served drinks and nibbles down the aisle! Nice touch, guys.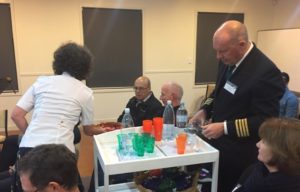 After supper the table-topics session continued with destinations including Fiji and Auckland. Dave closed up the meeting with a short video of a plane being landed… being filmed from within the cockpit!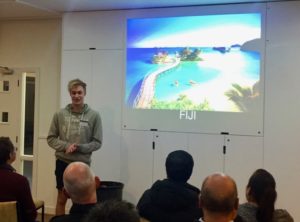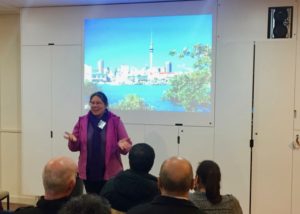 Thanks Dave and Ade, you really took the club to new heights with this inventive meeting style. Hopefully we'll have another theme night soon!