Tonight we had only had a single speech and a discussion panel – quite a change from the norm! The Toastmaster for the evening was Ellie. She took the reins and masterfully steered the meeting through all of its twists and turns.
Jessica took on the grammarian role with the word of the day: budge. Many people managed to work it into their speeches which was a great effort.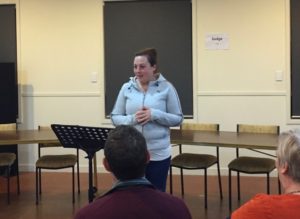 The only speech for the evening was delivered by Hannah, who spoke beautifully about how often we forget the importance of the little things in life. Hannah discussed how we all experience the process of growing up and we gradually move away from the things that truly matter. It was a lovely speech that we all enjoyed a great deal.
The second item on the agenda was a discussion panel chaired by Dave Brierley. The topic: how do we improve our club contests. He invited the panelists Ade, David K, Matt and Gary to sit at the table on the stage, and then posed questions to them. After each panelist had a chance to speak, Dave opened the discussion to the floor and took questions and suggestions from the audience. Overall, the exercise was very useful and our next club contest should be a spectacular affair.
After the supper break we had evaluations from Sergie and JP. The timer for the evening was Nick.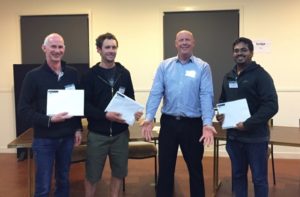 Before the meeting was closed, we celebrated the joining of two new members: Ryan and Ragu. Welcome to the club!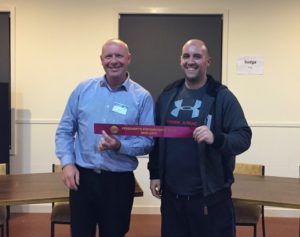 Finally, we had even more to celebration because our new President's Distinguished Club ribbon was shown off by our previous and current presidents, JP and Dave Brierley.