Tonight we had the always hilarious Dave Batchelor as Toastmaster, and to warm up the crowd he turned the whiteboard around to display the lyrics to a song from The Sound of Music. The idea was to move from member to member in the audience and have each person "sing" the next word or phrase in the sequence! It worked surprisingly well, and we all had a great laugh in the process. This was followed up by an interesting bard reading by Jessica, who recited some interesting nutritional facts about common food items.
The first speaker of the evening was Nick who presented a thorough introduction to how GPS works, as well as how GPS is used to track the movement of tectonic plates. It was fascinating stuff and we all learned a great deal.
The second speaker was Sergie who also presented some well researched slides. Sergie's talk was about the distinctions between our conscious and unconscious minds, and he used some extremely good metaphors to get his points across. I had no idea by unconscious mind was so vast!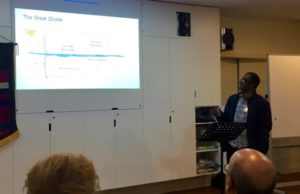 Table topics were handled by Sam who wanted to celebrate the end of the Olympics by having audience members come to the stage and explain some completely made up sports events! Some examples included: synchronised pairs javelin, 100m beam gymnastics, horse mounted basketball, and the walking long jump! Our lucky participants were David K, Kahu, Sanna, Matt, Pooja, and Dave Young. The results were hilarious and the best table topics session we've seen in ages. Nice work, Sam!
After supper we had evaluations by Jan, Tim, Binaya, and Dave Brierley. The timer for the evening was Ade. See you all next week!