Welcome everyone to this week's Cathedral City Toastmasters recap. Tonight we enjoyed two very different speeches and an inventive table topics. Let's get in to it!
Toastmaster Matt kicked off the evening with some interesting information about the importance of meditation. This was Matt's first time as Toastmaster and he did an amazing job.
The first speech of the night was delivered by Steve. His teaching background came to the fore tonight as he passionately told us why we need to read the classic novel To Kill A Mockingbird. Steve gave a (relatively) spoiler-free description of the novel, and we were all convinced to give it a read.
The second speech was given by Tim, who as the previous VP Education for the club walked us through the club survey he sent out earlier in the year. He discussed the reasons for creating the survey and what the purpose of the different sections were. We learned a lot about what we love about the club, and also what we would like to see improved. Tim urged members to step out of their comfort zone and consider club leadership roles in the future. There is so much value in giving these roles a go, and many people are currently missing out.
Table topics tonight were handled by Sanna, and in preparation for the upcoming club contest she had all participants wait outside in the lobby before being invited to the floor. The topic for the evening: pretend to be an art critic and talk about a rather abstract drawing which was skilfully created by her own preschooler! Needless to say, the members had to channel their artistic sides but everyone did a fantastic job.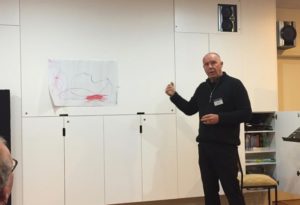 To round out the evening we had evaluations from Sergie, David K, Jane, and Binaya. The timer was Kahu and the grammarian was Nick. Great work everyone, see you all next week!