Our Toastmaster for the evening, Binaya, did a fantastic job at organising all of our speakers and evaluators. With two great speeches, a fun table topics session, and an eye-opening educational, it certainly was a rich and entertaining evening.
Notes? Who needs notes? Tonight we were treated to two passionate speakers, Kahu and Sam, who each spoke from the heart and showed us how it's done by not needing any notes at all!
Kahu knows a thing or two about property development, and tonight he shared with us his sobering thoughts on the current housing crisis facing New Zealand. Of course, the government calls it a "challenge", but whatever you want to call it, we had all the facts laid out for us by Kahu. He covered all of the relevant information so clearly and had us captivated. I think he should be running for office!
Sam was next up, and he was delivering his first speech from the advanced communicator series of manuals. One of Sam's many interests is surfing, something that he only started doing a short time ago, but he has become entirely enamoured by the sport. He showed us beautiful images of surfers taking on massive waves, and gave us a brief history of where the sport originated. Sam even told us the best places to surf in Christchurch (yes, he even surfs in winter!).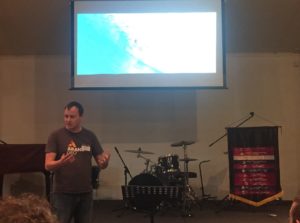 Our Table Topics Master for the evening was Daisy, who did something we never saw coming – gave us all tattoos! Not real ones, of course… Hilarious ones, including Angry Birds, a swimming man, a knife and fork, and Superman. Some of the lucky members to take the stage were: David K, Jan, Sergie, Pooja, and Kahu.
Normally we would have supper at this point, but instead were were presented with an amazing educational by two of our most seasoned speakers, Dave and Ellie Young. Together they gave us some great tips on how to deliver evaluations. We all learned a great deal, and the video is available below for all to enjoy!
After supper we had evaluations from Gary, JP, David Batchelor, Ade and our timer's report was given by Hannah. Great job everyone, see you all next week!