Where could you go on a Tuesday to hear about the pros and cons of social media, growing up in South Africa under apartheid, and the dangers of swimming naked in your home swimming pool? Not to mention, do all this while being sorely tempted by the smell of warm bread. The answers easy – deep in the heart of sleepy Burnside there lurks a hotbed of entertaining speaking that is Cathedral City Toastmasters.
The evening got off to an "awesome" start with Toastmaster Tim sharing gems from "The Truth about Leadership". Good leaders are honest, forward looking, inspirational and competent. Certainly inspired me to add another book to the ever growing must read pile!
The first speaker for the night was Binaya on Speech 10 (Inspire your audience) – an epic milestone! In one passionate and convincing speech entitled "Do not let social media take over your life", Binaya completed the 10 speeches of hard work that make up the Competent Communicator manual. Binaya identified and discussed the pros and cons of social media. As evaluator Matt said – Binaya really understands social media and in particular its importance and effect on younger generations. Binaya gave some great advice – largely around controlling time spent on social media. I think we all left a little more thoughtful about how to approach social media – with quite a few vowing to remove Facebook from phones at least!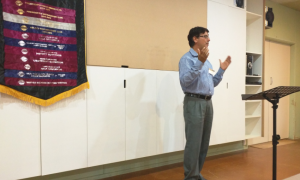 The second speaker was Sergie with Speech 5 (Your body speaks) of the Competent Communicator manual – title "Growing up in South Africa under the apartheid shadow" . Speech 5 is about using your body language to accentuate and add to the speech. Well – Sergie did that and a lot more. Sergi spoke of his time growing up in South Africa under apartheid. The audience was very struck by the details and insight Sergie gave – its one thing to read about something but that doesn't pack the emotional impact of hearing first hand experiences. Delivery was impeccable and, for what was a really challenging topic, Sergie really used body language throughout that complimented his speech.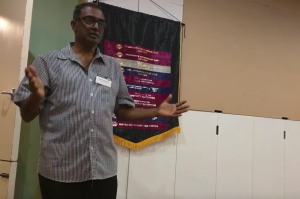 Well – that leaves table topics. Table topics are always interesting and tonight did not disappoint. Stephen set some Agony Aunt style problems that had to be read out and advice given. To add to the challenge, almost all of the table topic speakers had only joined the club in the last two weeks or were still guests! Maya kicked off with the aforementioned nude swimming in the home pool annoying the neighbour – I personally liked the solution of not looking. David Batchelor gave some sound advice to a struggling solo mum – and initiated some debate at supper. Sanna advised wearing protective clothing when visiting violent older relatives. Kahu clearly is a horn honker and has no problem with this at any time of day. Jessica tactfully advised the display of some heirlooms from a departed relative – but maybe selling the rest. Finally, Pooja gave some sensible advice on who is the boss in a marriage – especially when it comes to Christmas decorations. Amazing work from all the new members and visitors – it was lots of fun to watch!
Oh – if you are wondering about the bread – we were lucky enough to be given some free bread from the venue. I think it is worth putting it out there that Bakers Delight in Papanui Mall donate excess bread to good causes. The church had simply given away all they could and still had some left. Lucky us – but we had the tortuous smell of fresh warm bread for the whole night!
If any of this sounds interesting – come down and take a look next Tuesday. I cant promise you bread but you will have fun.