This week at CCTM (Cathedral City Toastmasters) JP was our host and kicked us off with a story about how new things can seem strange and odd, but that's only to begin with.  After a while once we get a hang of something, we can begin to see how it all fits together and what we can do with.  Which is a lot like Toastmasters.
First up for the evening was Pooja, as our Grammarian to encourage to use less fillers and challenge us to use the word, 'Ebullient'.  The challenge was only met by two or three, but met well none the less.
Our first of the speakers this evening was David K, who helped the club understand his role as Vice President of Public Relations.  There were many in the room who didn't know this job existed and how David was able to stealthy perform it unnoticed.  I wonder who will be the next VP PR this coming year?

The next speaker for the evening was David B, speaking about 'Habits, how they form and how to break them'.  We learned about The Three R's (Reminder, Routine, Reward) which helps us guide the habit forming process.  David then taught us how it was possible to break a habit using the exact same process. Interesting stuff.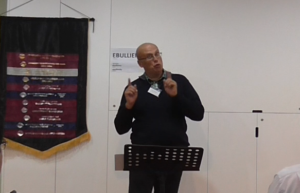 Bryce was our last prepared speaker for the evening, with his speech 'Crossing the border' which was about his hikes on the Routeburn track.  He wowed us with stories of the type of scenery along the track and key place to stop and take in.  Bryce did a great job at using descriptive language to make us feel we were right there, enjoying it with him.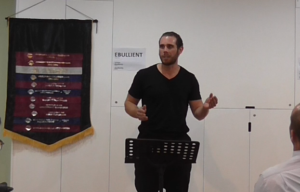 Our impromptu speaking was led by Tim, who gave our speakers Jane, Jan, Daisy, Sergie and Hannah the task of pulling a random item from a bag and explain to everyone about the item they just dug up on ancient earth soil back in 2016.
Great work everyone, a fun and fantastic night had by all.