Today, 17/04/2018, we have had a very exciting meeting. Some of us have started thinking about their purpose, others have found a tool to find out their true personality.
Our Toastmaster today was Jan who engaged us with her unique energy and enthusiasm and has certainly brightened up everyone's day.
Our 1st speaker was Richard who has completed his 1st project – The Icebreaker. He has shared with us his life path and how he got to where he is now. It is certainly an amazing story and we are happy to have Richard in our club.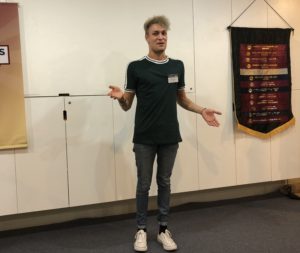 Our 2st speaker was Matt who told us about personality testing and how we could learn more about ourselves. Feel free to visit https://www.16personalities.com/ to find out what your personality is and how to navigate the ups and downs of it to live the life you want. While personality is important and makes one more suitable for certain roles and lifestyles, we do have the power to learn and change ourselves based on our goals.
Our 3nd speaker was Carl who explained to us the importance of finding one's purpose and steps we could take to find our own. The key learnings from Carl's speech are: we need to find who we can help and how we can help them, and this will define our purpose in life.  We need to take breaks occasionally to review our lives and to make sure we stay true to our purposes.
Evaluators for today were Jonathan, Eva and Ellie, the General Evaluator was Gary.  Kirsten and Hannah have kindly agreed to fill in for TTM and Timer roles at the last minute. This has certainly helped Jan to run a great meeting and is appreciated by everyone.
See you all next week!