Winter has finally arrived, but the warm atmosphere here at Cathedral City almost made us forget about the frostiness outside.  The meeting tonight was organised by our President-to-be Dave Brierley. We're always in good hands when Dave is at the reins, and tonight was no exception.
To start things off we had a fantastic bard delivered by Hannah. It was such a lovely topic, filled with dandelions and daffodils. This was Hannah's first bard reading, and she certainly set a high standard for the rest of us!
Our first speech was delivered by Jennifer, who was doing a practice run of a conference presentation she is due to give soon. It is no exaggeration to say that her topic blew our minds! After the Christchurch earthquakes, an interesting initiative called the Quakebox was set up. Housed inside a portable shipping container, this was a place that people could enter and share personal stories about their struggles and triumphs following the earthquakes. Everything was recorded for historical purposes, and Jennifer's research involves painstakingly reviewing every transcript and analysing the linguistic properties. Needless-to-say, any further attempt to explain Jennifer's speech would not do it justice, but we were all thoroughly impressed by the quality of her research.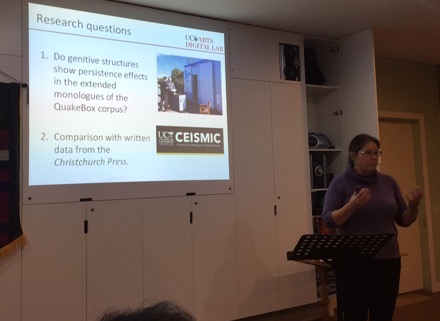 The second speaker of the night was Sergie. His speech featured another fascinating piece of research – the results of studies performed into the quality of olive oil (specifically, extra-virgin cold-pressed olive oil). As it turns out, most brands of olive oil are simply not up to scratch! In fact, the local Kiwi brands are usually better than the Italian imports. Go Kiwi!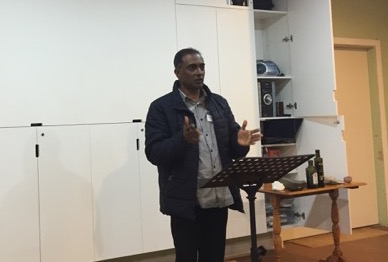 Table topics were organised by Sam, and true to form he brought in a wide range of rocks. The task: given a specific rock and a general idea devised by Sam, come up with a story that links the two together! Our lucky participants for the evening were Binaya, who had a rock from Mars (apparently); Nick, who had to find handy household uses for his rock; JP, who launched into auctioneer mode and sold us his rock for $12,000; and Tim, who somehow managed to escape from a Vietnamese POW camp with his rock (don't ask). One of our guests for the evening, Lulette, bravely stood up and told us a little about herself. Well done, Lulette!
Rounding out the evening were our excellent evaluators Jan, Ellie, Ade, and David K. Our brilliant timer was Daisy.
See you all next week!