Combined Toastmasters meetings just don't get any better than this!  Tonight we joined Christchurch Toastmasters en-mass over at their regular venue in Cashmere.  The evening that followed was a real mash-up.  A great, organised mash-up, with two scheduled speakers, oodles of tabletopics, evaluators and even two Toastmasters!
Introducing the word of the night was the grammarian Andrew with 'Galumph'.  This great word was used in full-effect over and over throughout the evening.  Andrew, clearly thrilled with it's usage, reported back with his observations of great language as well as um and ah statistics.  Great job Andrew!
The first prepared speech tonight was from Peter of Christchurch Toastmasters.  The project was to 'Persuade with passion' (CC9) and Peter did precisely this.  "You are about to become nuclear" built a brilliant argument for the acceptance of nuclear power.  Peter wound statistics all through this speech to support his points and built a strong emotive argument for why the non-acceptance of nuclear power is actually an acceptance of the only other base-load alternative, coal.  "Anti-nuclear equals pro-coal" Peter asserted.  A fantastic speech that was truly effective, well done Peter!
The second speech tonight was from our Tim, now working in the Storytelling advanced manual.  The Folk Tale project required the speaker to retell a folk tale that is enjoying and entertaining, while using vivid imagery and voice to enhance the story.  As evaluator Jo reported, Tim achieved all these things.  'Hares in contention' was an engaging retelling of 'The Tortoise and the Hare'.  Great stuff!
With so many Toastmasters in the audience, we needed two waves of Tabletopics to get through everyone.  First up was Matt with a section based around Christchurch road cones.  Stephen talked about a day-in-the-life of a road cone, David K a metaphoric wrong turn in life, Alan a monument to Christchurch road cones and Matt his most frustrating day due to roadcones.  Brilliant!

Ade's Tabletopics were based on the framework of a continuous story.  Ade set the scene, introducing Mr & Mrs Brown as a seemingly normal couple with a long marriage and adult children.  Then came the mystery of the basement, which Helen revealed as being a covert P-lab operation.  David Ba took it further, introducing the Mongrel Mob from Gore into the picture.  Now it seemed Fred & Anne were selling P to friends in their lawn bowls club.  Ilya divulged in a little family history before Jan revealed how Fred & Anne were actually backing the Southland Trust with all their laundered money!  Oh how this story weaved.  Julia wrapped it up, telling how the Browns gathered up their family and fled the country to escape from the Mob!  Brilliant!

A monumental evening of fun, entertainment and comradely.  With an excellent toast to Christchurch Toastmasters, JP handed over the galloping gavel to president Brendon and over drinks afterwards we talked about how we could do it all again next year.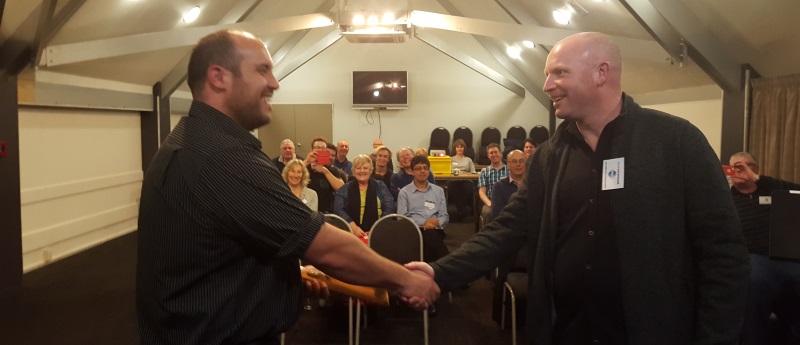 Thanks for having us Christchurch Toastmasters!