Today, 1/5/2018, we have had 2 audacious speeches. For those who don't know – "audacious" is showing a willingness to take surprisingly bold risks as our grammarian Kirsten has taught us today.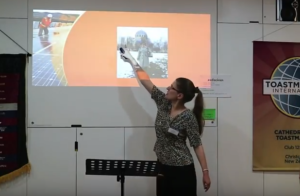 The 1st audacious speech "Why I haven't prepared a speech about how to size up solar system for the house or Icebreaker No 2" was presented by Eva, who shared pictures of her childhood, from 6 months old to 21 in Russia, then snapshots of her life in New Zealand and discussed the challenges that she personally as well as both societies are facing today and what can be done about it. This was Eva's last speech from Competent Communicator Manual so she's now officially a Competent Communicator.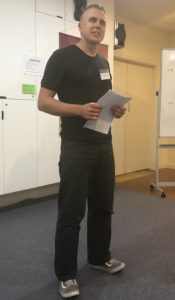 The Next speaker was Tim, with his speech called "Trapped in a monologue". It was a project from the interpretive reading manual that Tim had to act out a monologue for speech or play. It was very challenging, but Tim has done an amazing job.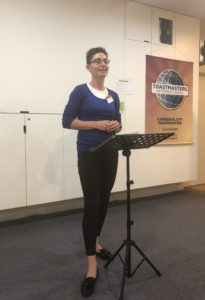 Our Toastmaster for the meeting was Fiona. It was her 1st time as Toastmasters and she has done a great job getting us all organised. Well done, Fiona!
We have also had Mike having a go at a role of Table Topics Master for the 1st time. He has prepared some very thoughtful questions about Anzac Day and our impromptu speakers had to come up with the answers, He has certainly challenged us to think on our feet.
Our Table topics evaluator was David Batchelor, Speech evaluators were Richard and Jonathan and our Timer was Hannah.
One of the club founders – Ellie, has presented a very thorough evaluation for the clubs meeting as General Evaluator and provided some priceless feedback to the speakers.
See you at the AGM next week!