This week we changed it up a little at Cathedral City by hosting a graduation of Speechcraft, it was awesome!
Gary kicked us off by welcoming us all and setting the scene before handing things over to the evenings coordinator Dave Young.
Dave explained how our two speakers for the evening had just spent the last 10 weeks on a Speechcraft course where each week they were to give a new speech.
It sounded tough, but it was evident in the speeches that followed Speechcraft can create some amazing results.
Next up was Marg to introduce our first speaker Sam.
Marg gave us a snapshot of Sam's life and helped us feel familiar with who we were about to hear speak.
She told us how Sam was from just out of Kaikoura and was passionate about horses.
Sam with her speech titled 'Three of a kind'.
She shared about her life and how three people specifically have had major effect on her.
Firstly she told us about a work colleague from the BNZ where she works. Sam said that a this person has been a driving force in her career since she started at the BNZ and helps her reach for new heights.
Then the final two who worked tirelessly to ensure that Sam and her sister had a private education and were taught about good work ethic. These two were of course her dedicated and proud parents.
Thanks so much for sharing with us Sam.
Next, Dave Brierley was up to introduce our next speaker, Charlie.
He too gave us an insight into Charlie's life touching on how he grew up on a farm and loved his fishing.
Charlie told us about a person in his life he had looked up to his whole life and still does to this day.
His uncle Johnny.
He spoke about how Johnny taught him how to fish, taking him through the progression of skills to the stage where he became a competent fly fisherman. The audience enjoyed the fishing tales, especially the one about the 'Terra-cuda' a fish he and Johnny caught while out fishing in their younger days.
After we heard these wonderful things we found out that Johnny was now a quadriplegic after an accident later in life. Despite this, Johnny is still a huge part and influence on Charlie today.
Thanks for giving us a glimpse into your life Charlie.
Then, Ade transported into the future 1000 years to the year 3014 for a tabletopics adventure.
We were scientists on and archaeological dig who were sharing our findings with the group.
First up was Ellie, who gave us a thrilling explanation of a fly fishing reel. I think.
She somehow demonstrated the reel with absolute conviction and certainty, which she was able to achieve through a language only spoken in 3014. That's right, we couldn't understand a thing but got the message.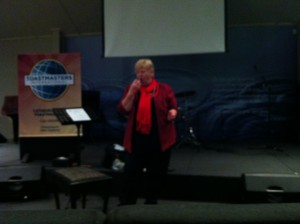 JP was next with his presentation of the 'Bandus Bullbus Snarfblat', its scientific name of course.
A device that looked remarkably like a feather duster, except this one was used for pleasure… That's right, pleasure. Enough said.
Jan then explained to us about the hose nozzle, um I mean the weapon of choice for 2014 police. Which was used to douse and subdue criminals in so many ways.
I always wondered what they were for, thanks Jan.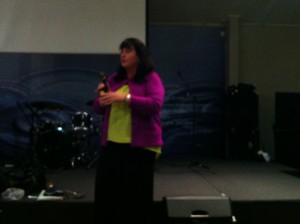 Janet tied everything together with the humble tape measure.
She explained that these were often found in places called man caves which were also home to such items as Fly Reels, Bandus Bullbus Snarfblats and Hose Guns.
Simply genius.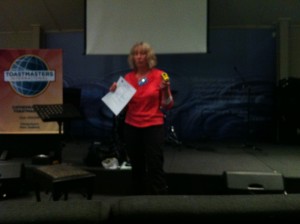 After a cup of tea and some excellent evaluations, Dave Young was up to finish things off by presenting Sam and Charlie with their graduation certificates.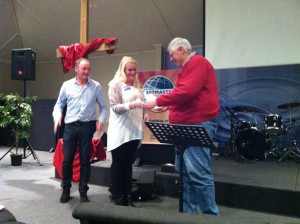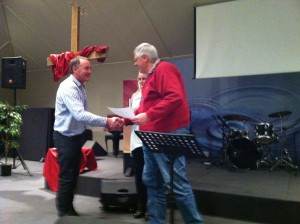 Thanks again to Sam and Charlie and well done!
See you all next week, same bat time, same bat channel.