Tonight's contest must have set some kind of record, with nine contestants registered in the Table Topics Contest and five registered in the Humorous Speech Contest. The air might have been chilly outside, but there was nothing but warmth and hilarity inside. Read on to find out who won!
The first order of business was the Table Topics Contest, chaired by Ade. Each of the contestants were asked to describe their favourite childhood memory. All of the responses were eye-opening and hilarious, which included Sam H. discussing his love of egg-and-bacon pie (served cold, please), Jennifer describing her fantasies of sailing the seven seas (aka Dunedin harbour), and Jane telling us how much she loved Christmas as a child.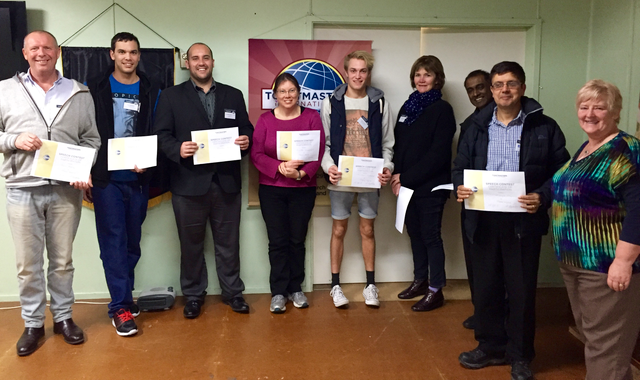 After the delicious supper that was organised by Jan, the Humorous Speech Contest took us to the next level. Contest Chair Sam Bain warmed up the crowd with a tutorial on different laugh techniques, including Santa's belly laugh "ho ho ho" and a cackling witch. Audience participation was highly encouraged, and the neighbours were left scratching their heads.
First up was Ellie, who told us an embarrassing true story from many years ago. Apparently, leaving a young baby behind at Riccarton mall doesn't make you irresponsible, just forgetful… We were all thoroughly entertained by the energy that Ellie injected into her speech, and she set the bar high for the remaining contestants.
JP was next to take the stage, and he delivered a funny story about teenage angst during a church sleepover. Sneaking off into a darkened room with a girl sounds good in theory… that is until a church elder walks in and witnesses a forbidden embrace. Avoiding his grandfather's wrath was JP's primary concern, and his church attendance was never the same again.
Dave Brierley was third up, and he told us about the time he was living in England and took the train to visit his girlfriend's parents for the first time. The night before had involved alcohol and curry, which in turn led to hilariously compromised situations on board the train. Long story short – new pants were required… urgently!
Dave Batchelor made his contest debut with a comical tale about his very first car, a Ford Cortina Mark I. While not his first choice, he learned to appreciate the little beauty. This wasn't always easy, however, especially when he took a girl on a date and the starter decided to fail, requiring a very long (asthma-inducing) push start!
Gary was the final speaker to take the floor, and surprised everyone when he appeared wearing lawyer's robes! The case in question – none other than the story of Little Red Riding Hood. Nobody knew what to expect, and Gary proceeded to mount a solid defence of the (clearly innocent) big bad wolf! Not only was the wolf innocent of the crime, but Little Red Riding Hood herself was implicated, thanks to the healthy payout she received from Granny's life insurance policy.
And here are the results –
Table Topics
1st – Ellie Young
2nd – Jonathan Pedersen
3rd – Sam Hubbard
Humorous Speech
1st – Gary Judd
2nd – Jonathan Pedersen
3rd – Ellie Young
Congratulations to all of the contestants, especially all the first-timers, and special thanks to the judges, timers, and the event organisers who made this a night to remember.