We had a full program tonight, but our experienced Toastmaster Gary led us through it all with his unshakable professionalism and quick wit. Let's get started!
Our grammarian for the evening was Jessica, who stunned us all with word-of-the-day "jejune" which means naive, simplistic, and superficial. Only a few members managed to squeeze the word into their speeches, but we all felt richer for having learned of this strange word.
Speech 1 was delivered by Ade, who was completing the project "Selling a Product" from one of the Advanced manuals. The speech was entitled "Package to India", and Ade laid out some extremely convincing reasons why we should all take our cars into the local high school on Saturday for a fund-raising car wash. The kids are funding a trip to India and desperately need the funds. Personally, I'll be making my car extra dirty so I get my money's worth!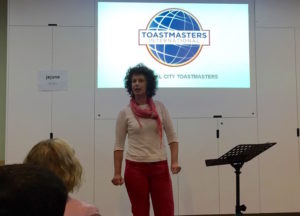 Speech 2 was brought to us by Kahu, who was completing project 2 from the Competent Communicator manual. Kahu was focusing on the structure of his speech, which was entitled "Beware of the house builder". Kahu knows a thing or two about building a house, and he shared with us some extremely valuable tips on how not to get ripped off, including how to choose the right builder, making sure the contract works for you, and how to monitor the build quality as it all goes ahead. Thanks for the informative speech!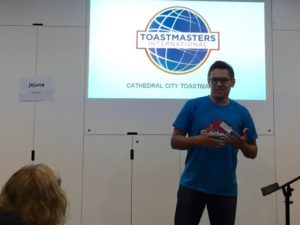 Speech 3 was another amazing Speechcraft project delivered by Bryce. It's hard to believe he's only on his third speech, because he's already speaking like a pro! Tonight Bryce talked about yoga and why it's such an important part of his life. He discussed aspects of breathing and muscle building, and why even his footy mates were won over by their visit to the yoga studio. Keep up the good work, Bryce!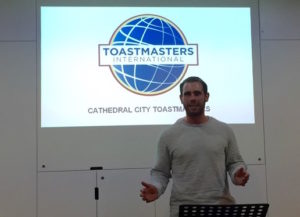 Table topics tonight were handled by Sanna, who donned a white lab coat and announced that we were all attending a world-class medical conference. Members who were called to the floor had to tell the audience all about a specific (and strange) medical condition. We all learned so much! Some of the highlights include: Dave Young with "walking corpse syndrome"; Jan with "vampire syndrome"; Janet with "foreign accent syndrome"; Tim with "werewolf syndrome"; and Sergie with "alien hand syndrome". The laughs came thick and fast, and Sanna was on hand at the end of each speech to tell us what the condition was really about.
After a short supper, we were treated to some fantastic speech evaluations from Jane, Pooja, and JP. Table topics were evaluated by Sam, and the General Evaluation was handled by Dave Brierley. Timer for the evening was David Batchelor.
Last but not least, Jan was presented with a certificate for completing her CC manual! Great work, Jan.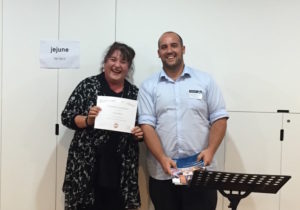 See you all next week!