It was a shortened evening at Cathedral City Toastmasters tonight, with only a single speech and an ambitious 10 table topics, followed by social drinks at the always lovely Misceo Café & Bar.
Toastmaster for the evening was Ade, who always brings her winning smile and professional manner. Somehow she made us all forget about the heat outside and focus instead on the great meeting she had organised.
The speech tonight was delivered by Jane, who was completing project 4 of the CC manual. Jane never fails to disappoint, and she proceeded to hit the project's objectives such as using vivid language and appropriate grammar and sentence structure. Her story followed the theme of a Mother's Memoirs, which included telling a hilarious story about a rather painful incident involving a zipper and a certain male body part… enough said!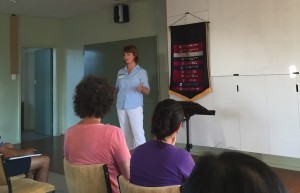 Table topics were handled by Luke, who had everyone giving explanations about random news headlines. Highlights included Gary who threw an alligator through a window and Steve who explained how the Australian army lost a camouflaged tank!
The other brilliant participants were Ellie, Sam Bain, Gray, Jennifer, Kahu, Sanna, Kathy, and Binaya. I'm pretty sure 10 participants is some kind of record!
Our evaluators for the evening were David K (for Jane's speech), Jan (an epic effort with so many people to talk about), and JP the General Evaluator. Dave Br showed us all how it's done with his Timer's report.
Sadly, this is Gray's final night with us, as he is moving to Palmerston North to take up an exciting job at the local hospital. We'll miss his dry wit and cheeky smile, and wish him all the very best.
See you all next week!