Our stand-in Toastmaster was Dave B, who did a great job pulling together a truly memorable evening!  It had it all – laugh-until-you-cry entertainment, education to boot and a massive call to action over the proposed Trans-Pacific Partnership Agreement.  But it all began with a bit of "banter", Grammarian Ade's choice for the word-of-the-day, which seemed a little tricky for folks tonight, which was ironic because the evening was actually jam-packed with it.
Our Janet finished her Competent Communicator manual tonight!  Her CC10 speech was a real cracker – "The positive force for good" came with a projector presentation and hand-out and a really strong message – The TPPA (Transpacific partnership agreement) has the potential to change our country for the worse.  Janet built her powerful argument with statistics, analogies and facts regarding how similar agreements have affected other countries.  "In our world today, 85 of the richest people have as much wealth as 3.5 billion of the poorest", asserted Janet, indicating that the world is out of balance and that corporate lawyers are actually running our countries.  "There's a lot wrong with this" said Janet, before she urged her audience to join in with letters to the editor, talking to others and joining the march on Riccarton Road this Saturday.  In Gary's evaluation he commended Janet on achieving the CC milestone, commenting specifically on Janet's growth as a speaker – the way she speaks without notes, can persuade her audience, her preparation work and her 'demonstrable confidence'.  Congratulations Janet – we're absolutely thrilled for you!
Toastmaster Ellie lead a marvelous educational on Evaluation tonight.  Using husband Dave Y. as a test-speaker subject, Ellie had everyone in the audience working in peers to practise.  "Evaluation is the cornerstone of the success of Toastmasters" said Ellie, referring to the feedback and learning cycle.  This educational covered the CRC method, the 3rd person evaluation, relating to speech objectives as well as several ways to introduce a recommendation!  Thank you Ellie for sharing this with the group!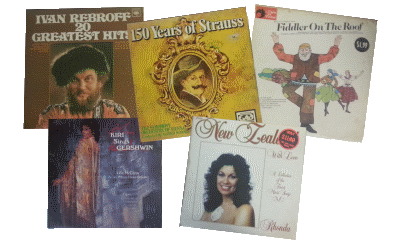 Toastmaster Kathy lead an epic session of tabletopics, based around a collection of old LP records she'd recently inherited.  David K began with "To New Zealand with Love" by Rhonda – his loving mother.  "You might think this album is about New Zealand.  Really, this is about my mother's love for me.  Rest in peace Rhonda" he concluded.  But Marise followed with some shocking revelations, as she held up her copy of "Kiri sings Gershwin", she revealed that Kiri was actually Rhonda's sister and that Kiri was Marise's mother.  "My mother was so much more famous than her sister Rhonda.  You can tell this by the way she kept her clothes on for the album cover".  Tim was next with "150 Years of Strauss", which caused him to reminisce about a failed romance where he overcame the breakup with the help of Strauss classics such as the Blue Danube.   "Fiddler on the roof" was Gary's choice, leading him to tell the story of his first ever LP purchase by Roger Miller which scared him for life.  Breaking into song, Gary sang the lyrics to "Dang me, hang me", unleashing his deep hatred for the tune onto the group!  Maya rounded it all up with Ivan Rebroff's "20 Greatest Hits", then in a shocking twist she announced that her Russian father Ivan, was actually the secret lover of both Rhonda & Kiri, making David & Marise her half brother and sister.  "This fella really got around" said Maya, "Then again, any woman who heard his voice, could not help melting to his powers".
Thanks all involved for such a great evening!