Choc-a-block evening we had this week.
Toastmaster Ellie kicked us off by introducing our General Evaluator and our three speakers for the evening and a big reminder why it's 'THE BEST NIGHT OF THE WEEK!'.

Our first speaker was Jennifer who introduced us all to the hidden and delightful world of Book Crossing, where members can release their books into the world for other keen readers to find books all over the world.
It was a truly fascinating and interesting idea.
You can find out more here.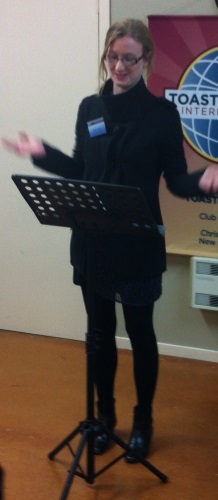 Our second speaker Tasha, gave a speech that opened our eyes.
Her Speech 'Twenty Seven and a Half' was about her life up to this point.
She gave an honest description of how her life hasn't exactly turned out how she thought it would.
As always her speeches are very well written and tell such a vivid story.
We were all lost in her words and could see ourselves in her story.
Oh and it was Tasha's 10th speech. Well done Tasha!
The last speech of the evening was from JP, who taught everyone about the chemicals in our brain that help motivate us through life.
They were:
Dopamine is the result of accomplishing goals, it's designed to help us find what we're looking for. Every time we see a finish line, cross something off our to-do list, or see movement toward our goals– we get that shot of dopamine!
Endorphins mask our physical pain and help us keep pushing ourselves to where we need to be. For most of us who live more sedentary and safe lives, our most common form of endorphins come from exercise. If you've ever had a "runner's high"– you know this feeling.
Oxytocin is one I talk about a lot in connection with our friendships as it reinforces bonds, builds trust, and relieves stress.  We get this from touch, meaningful conversation, breast-feeding, and when we see/experience acts of human generosity.
Serotonin happens in moments of pride, recognition, and status. When we receive our diploma on stage, say "I do" in front of friends and family, or are the recipients of a meaningful award– we get that shot of serotonin that boosts our joy.
And, Cortisol which is responsible for fight or flight.
To finish off David took us through a new type of table topics.
Pairs of people were chosen to get up and were given a random topic to talk about. Normal right?
Nope, the second person who wasn't speaking had to act out what the speaker was talking about.
I know…
Dave and Jennifer kicked us off with a visit to Disney Land.
There were rides and games and fabulous memories. It was at that point Dave noticed he could get Jennifer to act out anything he wanted.
He had her going up and down on a roller coaster. She looked like she was going to be sick.
Great work.
Ellie and Tasha were up next, taking on the ultimate mountain. Everest.
We were subjected to blistering cold, endless trudgery, and thrill of reaching the summit.
I saw were subjected to it, what I really mean Tasha was. After seeing her do all this climbing, we were ready for a rest.
Kathy and JP finished off with a day out on the surf, Riding waves, enjoying the water. Kathy had JP hanging ten on a surfboard and paddling what seemed a disproportionate amount.
Then came the kicker, a Great White Pointer. Turned out Kathy thought it a good idea to commit suicide. Of course JP had to act this out.
What a fun night.
Thinking you might like to come to Toastmasters?
We promise we will keep the White Pointers in there cage.
Come visit us or flick us an email here if you would like to know more.