What an evening!  Gripping, informative and bursting with entertainment.  Toastmaster Gary started us right on time and wrapped it with precision in time for us to head out for some social drinks.
First to take the floor was Sergie with his Competent Communicator project 4 speech "I was never so wrong".  This speech was gripping, with the audience hanging on Sergie's every word as he described his recent ordeal, suffering a heart attack and surviving open heart surgery to make a full recovery.  A clever technique Sergie employed in this speech involved constantly referring back to the title in a humorous manner which Gary described as a 'comedy of overly wrong expectations'.  Congratulations Sergie on telling this incredible tale so well.
Already giving her second speech tonight was Jane with the Organise your Speech project from the Competent Communicator manual titled "When am I going to die?".  "Who in this room knows when and where you're going to die?" began Jane.  Rhetoric devices don't get much bigger than this!  She certainly had our attention!  This well researched speech came with plenty of stats, which actually answered this question.  But this speech had a very real call-to-action – to think and to talk about dying.  "You can run, but you cannot hide" asserted Jane, making the point that death comes to us all, therefore we all need to plan.  Congratulations Jane on this truly effective speech.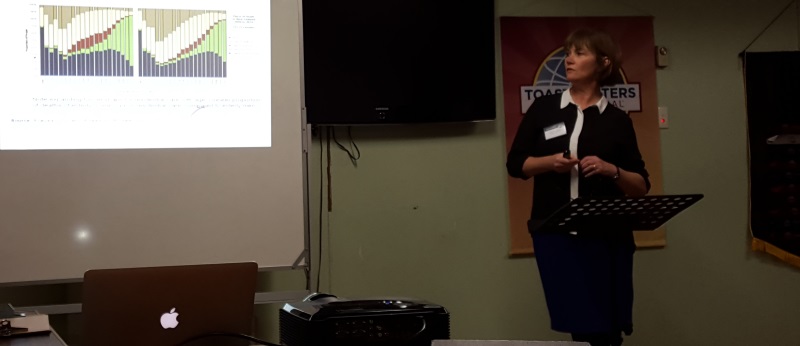 David Knight's table topics hit a new level tonight.  These brilliant challenges tasked toastmasters to become an object.  Sam B was a pencil, Sam H a rugby ball, David B some curtains and Marg was Michael Angelo's David.  That's right!
See you all next time!